We have acquired ISO certification, an international standard, in order to deliver better quality and greater peace of mind to our customers. We have also made a wide range of contributions to the community and society over the years, and have received various awards in recognition of our efforts.
Certification and Accreditation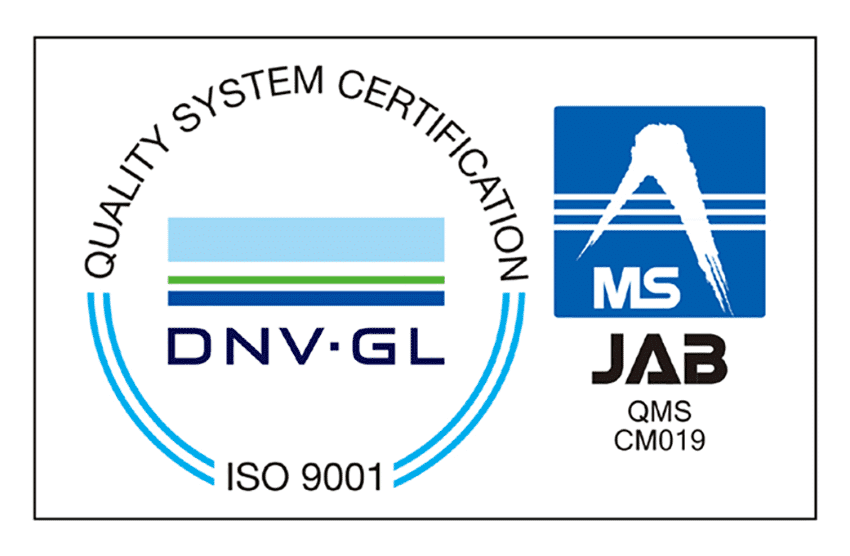 ISO9001
An international standard for quality management systems established by the International Organization for Standardization (ISO).
Our management system is in place to provide consistent products and services and improve customer satisfaction.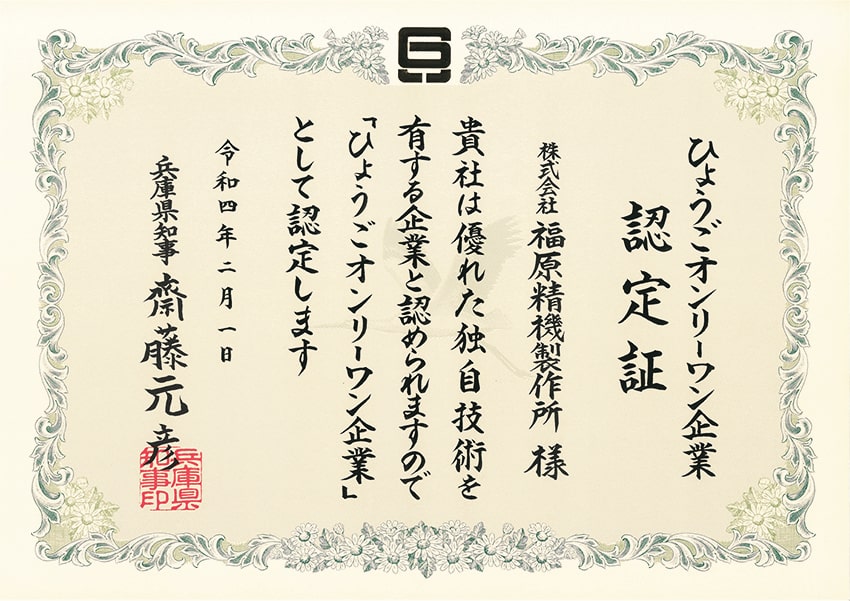 Hyogo's Only One Company
This system recognizes and honors companies in Hyogo Prefecture that have excellent technologies and products, and that enjoy a high reputation and market share both in Japan and overseas.
We boast a 48% share of the global market for electronic pattern knitting machines, a field in which technical capabilities are of paramount importance, and we are recognized as a "Hyogo Only One Company" by the Governor of Hyogo Prefecture as a representative manufacturer in the global circular knitting machine industry.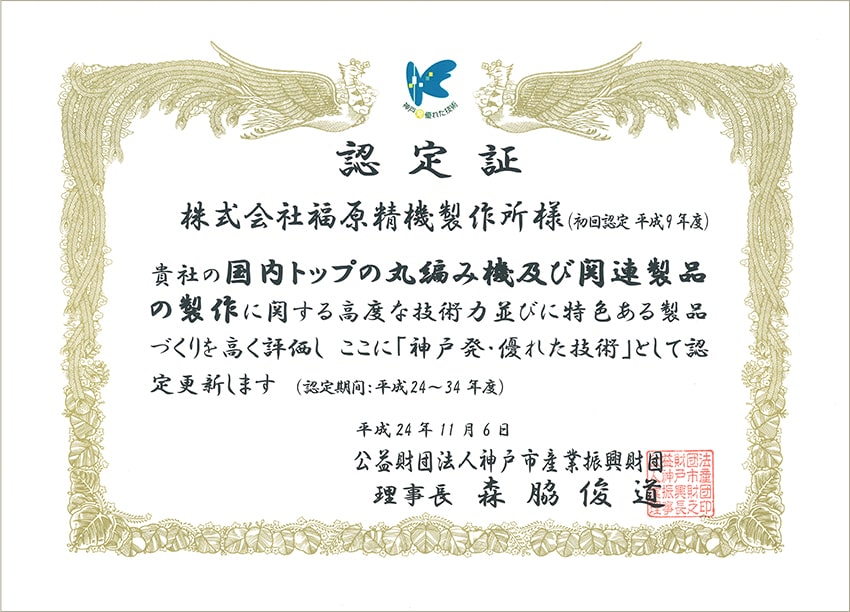 Superior Technology from Kobe
This system recognizes companies in Kobe City that have top-level technological capabilities in their specialty or unique technological fields and manufacture products and goods that occupy a high share of the market.
In recognition of their advanced technological capabilities and distinctive product manufacturing, the President of the Kobe Industrial Promotion Foundation has recognized them as "Superior Technology from Kobe".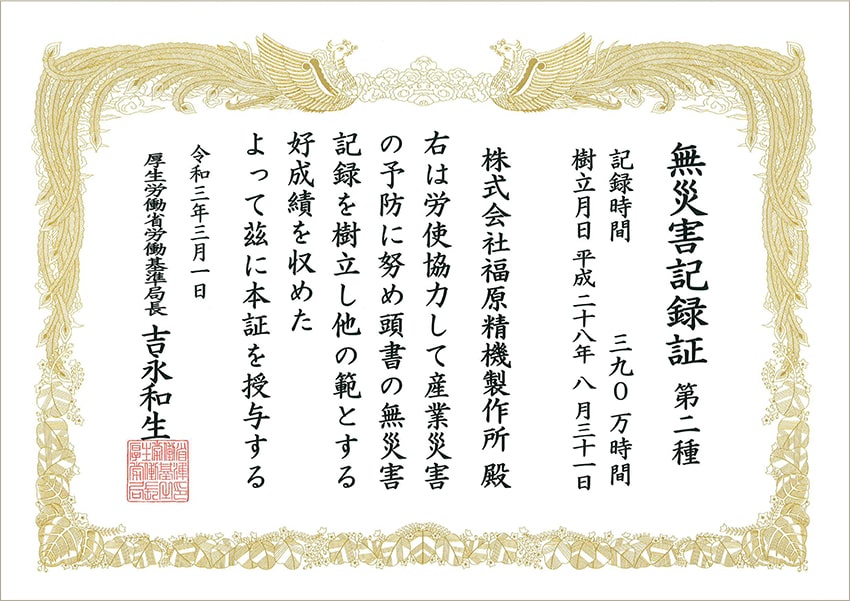 No accident record certificate Type 2
3.9 million recorded hours
The Director of the Labour Standards Bureau of the Ministry of Health, Labour and Welfare presented the company with a certificate of record for having established a record of 3.9 million hours without accident through the joint efforts of labor and management in preventing industrial accidents.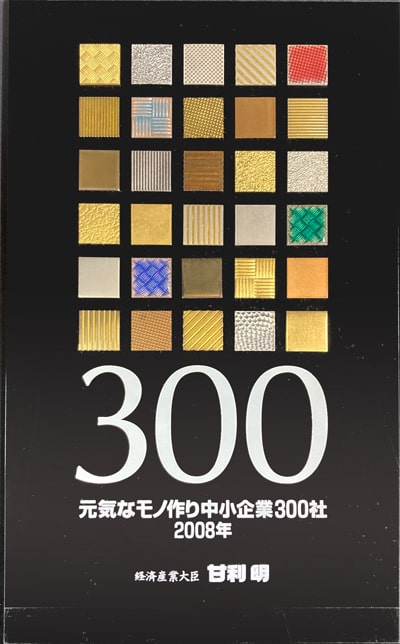 300 Vigorous Manufacturing SME
It is a selection of 300 small and medium-sized enterprises with advanced manufacturing technologies that support Japan's international competitiveness.
The Small and Medium Enterprise Agency of the Ministry of Economy, Trade and Industry selected us in recognition of our manufacturing.
Commendation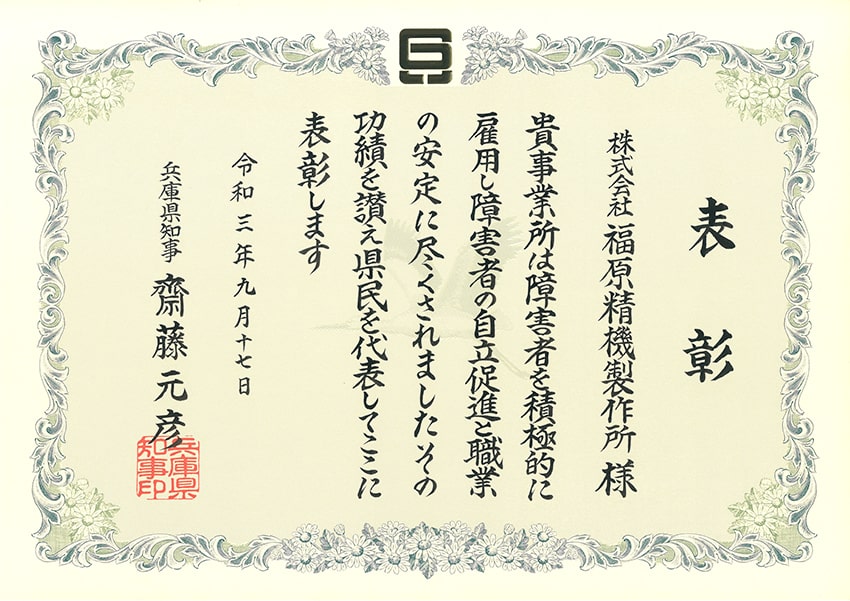 Excellent business office for employment of persons with disabilities
Received an award from the Governor of Hyogo Prefecture in recognition of our efforts to promote independence and job security for people with disabilities by actively employing many people with disabilities.
Safety and health management standards
The award was presented by the Director of the Hyogo Labor Bureau in recognition of the company's active promotion of occupational safety and health activities and its particularly excellent standards of safety and health that set a good example for others.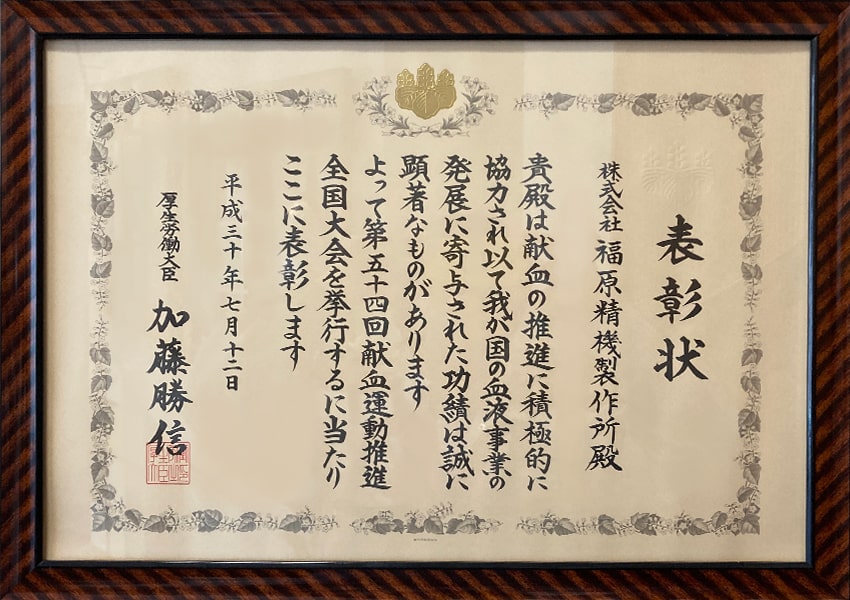 Promotion of blood donation campaigns
The Minister of Health, Labor and Welfare commended the company for its active cooperation in promoting the blood donation campaign and for its contribution to the development of the blood donation business in Japan.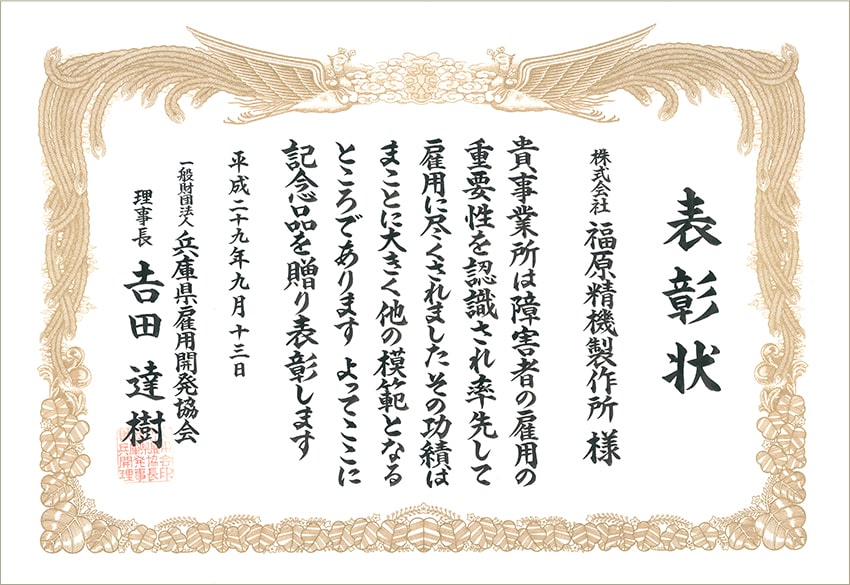 employment of people with disabilities
The president of the Hyogo Employment Development Association commended the company for its recognition of the importance of employment of people with disabilities and for taking the initiative to employ people with disabilities, a significant achievement that serves as a model for others.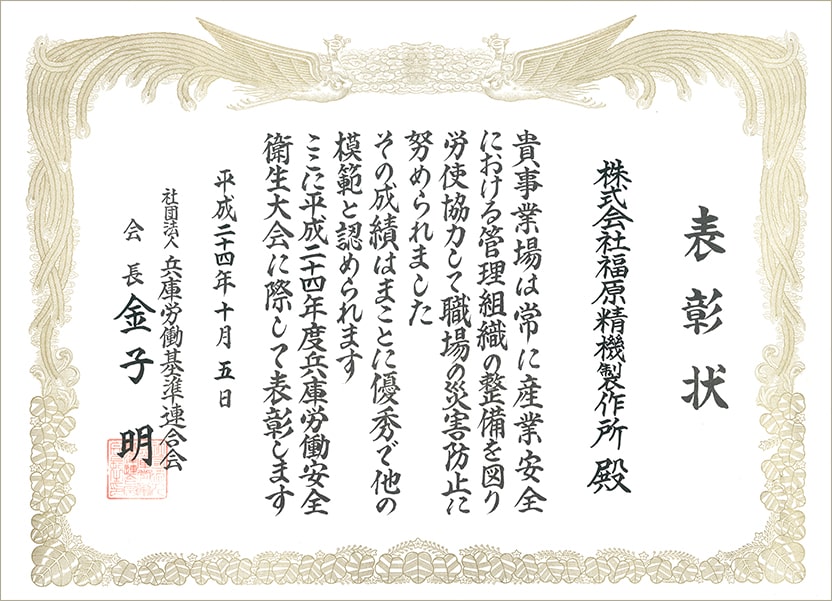 occupational safety and health
The company received an award from the Hyogo Labor Standards Federation for its efforts to develop a management organization in industrial safety and to prevent accidents in the workplace through labor-management cooperation.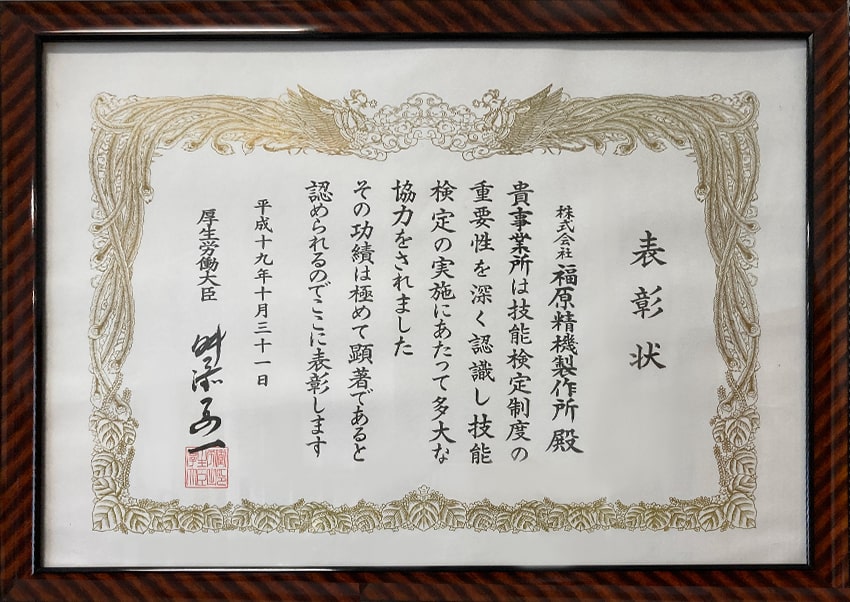 Minister of Health, Labour and Welfare Award for Human Resources Development
The Minister of Health, Labor and Welfare commended the company for its deep recognition of the importance of the trade skill test system and its great cooperation in conducting the trade skill tests.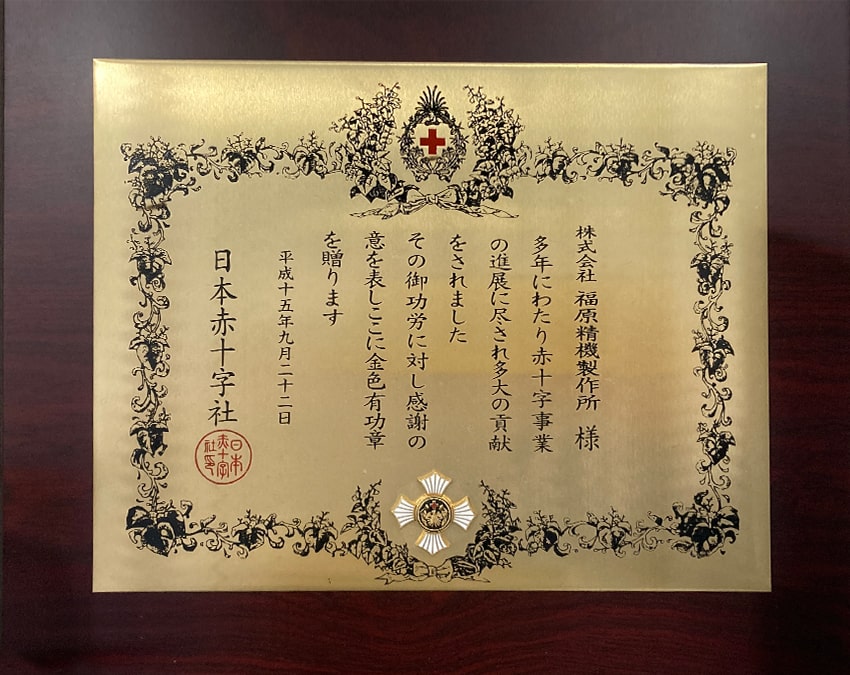 Japanese Red Cross Society Gold merit badge
We received the Gold Medal of Merit for our substantial cooperation in funding Red Cross activities.